Find your Home's Value

Get a free comparative market analysis of your home's value sent to you with no obligations.
Have new home listings come to you! Click on the map below to receive daily listings via email.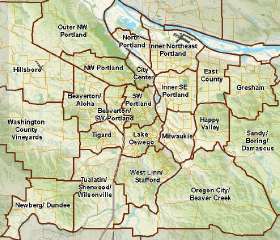 Our varied experiences of growing up in rural Oregon, living in the heart of Portland and settling down in the suburbs have given us an appreciation of the appeal of making your home in many different environments. From condos to the country, we believe that there is a quality of life available in the Portland metro area that offers the best of all worlds - neighborhoods with small town charm and the resources of a big city.
It is important to choose a team of real estate professionals who you can trust to help coordinate one of your most important financial transactions. We strive to maximize our clients' return on their investment when they sell or purchase a home. However, we also know that buying or selling a home is not strictly a financial decision. There are many lifestyle factors that impact your decision to make a move. Because we understand the significance of your real estate investment, financially and emotionally, we will do everything in our power to help you become successful, guide you through a smooth transaction and provide you with superior service.
We will strive to give you value, respect, and empathy. We would love to demonstrate these qualities to you through the opportunity to serve as your trusted real estate advisor.
We have a passion for helping people attain their home ownership goals during each stage of their life. Thank you in advance for your consideration.
Steve & Lisa Thoele
Executive Home Team
http://FindPortlandOregonHomes.com